This page is for regular visitors (or repeat offenders) who want to find out if anything has been added or changed on the website since their last visit. The most recent updates will be posted here at the top of this page for convenient viewing of new material or website changes.

Thank you for your visit!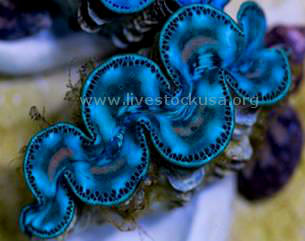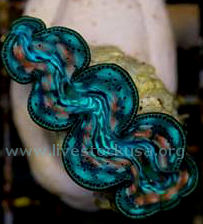 Tahitian maxima clams from Greenhouse List
(not always available)
Just a quick note in case any Comcast customers peek here. Comcast seems to have our e-mails blocked, so we're unable to e-mail you at a Comcast e-dress. You can try white listing us, but we can't guaranty that will work. If you have an alternate e-mail address, please send it to us if you'd like to get on our mailing list or if you've not been receiving our e-mails. Also, it's pertinent that we have another e-mail address for you if you place an order with us. Thank you!
Customers on our mailing list receive updated availability lists created on a spreadsheet program that includes pages from a handful of sources that are scheduled to ship to LAX the following week. To get on our mailing list, send us an e-mail to let us know you're interested in receiving the weekly mailer. Also, if you do not have an Excel program to view the mailer, you may be interested in the following page that has information about a spreadsheet program ... FreeOffice Planmaker
September 8, 2020

Hi fish fans!

Well there went summer, and here comes fall! There are lots of fish and corals coming in weekly, or every other for some corals. There is tons of great stuff to be had. Ask for a new list for the most recent update. Still free. The .pdf pages with lists are usually updated monthly.

There is still very little scheduled international air freight service and almost all is on charter flights, which about doubled the freight rates from some places. Fish boxes are now more like $400 and corals $600 for the inbound per box landing and handling charges.

For domestic shipping it is easy if you are somewhere Southwest flies. Or a direct Delta location, but Delta is still not doing connections for perishables. We are using FedEx a fair bit, and have only had one issue. In general it has worked great, for not much more dough.

There have been semi-regular shipments (every couple or few weeks) of cultured corals from Kupang and Bali. They are much more expensive than they were prior to the two year shutdown. They are watching the prices for frags on the U.S. intertubes and jacking colonies accordingly. These are very high quality, of great health and color, a box of Acros is running $1600-2400. They are big 3-4" A+ grade whole colonies.

There are some photos of recent Kupang colonies here ... Kupang-20

A new page on the cultured Bali corals is here ... Bali Cultured Corals

Tonga ships every few weeks and they have great wild Acro colonies, awesome LPS and SPS, outstanding softies, and even á la carte ordering. A dozen Acros is about $1100 from there, all included up to LAX drop-off for your flight.

Vietnam is also shipping monthly or so, but has been slightly irregular of schedule lately. The zoas and shrooms remain fantastic though. You have to be ready and wait for the word that shipment is on.

There are often Hawai'i and Marshall Isls. fish in the greenhouse, besides a bunch of other odds and ends, like Blue-dot Jaws lately, Black Tangs, some Kenya fish, and so on. Lots of Tonga and other corals too, often A-grade clams. Plus you can cherry-pick the list á la carte. Crabs and snails too.

There are frags of various types available, many for $25 from Tonga and Vietnam, the super fancy Taiwan Zoas are $30 each for 3cm square tile covered. They are awesome.

Please don't hesitate to shoot us an email and ask any question you might have.

~birdfish


Taiwan Zoanthids

Some recent updates may be seen here ...
Marine Livestock .pdf Lists

Contact Us
June 23, 2020



Hi friends,

Here are some updates on what is coming in now. Of course, the situation is rather fluid and dynamic. Things can change alot, quickly. We hope some good old regularly scheduled air service begins soon. There is more happening than I am at liberty to say in the way of future coral availability. Here is what I can tell you ...

Delta is not accepting perishable bookings for connecting flights. So your nearest Southwest airport is your best bet. FedEx is an option for some things to some places, sometimes, not for Sunday or Friday arrivals to LAX though. Not always possible because they close at 6 p.m. at LAX (!) and often shipments (like Tonga) are not even cleared for pickup yet. A FedEx coral box coast to coast is about $250 (double air-freight). It's about $100 for a small box of a couple dozen frags, for instance.

All international freight is on charter flights only. There is no regularly scheduled service. So there are surcharges from various sources, depending on flight lengths and such. For most of the fish sources it is about $50 per box over the old regular prices. For coral boxes it can be $50-200 more than the old $400/box standard. There are new higher per coral CITES permit fees, and a new export inspection fee at all Indo areas.

There have been Bali and Kupang shipments (with Acros). The Kupang is $600 per box to get it here. There are new permit and inspection fees, and the charter cargo is $14 per kilo! Bali will be at least $500 per box. That is just the inbound landing and handling charges. Add the contents and your domestic shipping from LAX. Neither is a regular scheduled thing yet, but they are happening, you have to order to reserve a box, and wait. Demand far exceeds supply.

For easy to get A-grade corals, you can't beat Tonga. This guy's stuff is awesome. Acros, Acans, the best Pink Stylo, great leathers; and, every couple of weeks usually, sometimes every week. About $1100 for a box of a dozen full whole wild Acro colonies. The only problem is he keeps raising prices.

There are occasional shipments of Hawai'i fish which show up on the Greenhouse List monthly or so. Lots of neat rarer stuff there! Great clams there too, and some Blue-dot Jawfish now as well.

There are Australia corals on the Greenhouse List, and on a seperate 'Oz house' tanked Oz list. No Acros lately though. Viet Nam has had trouble getting space on the charter flights out lately, been a month now.

The Bali area tranship fish sources all join together and ship for Wednesday arrival to LAX. Thursday to you. Lombok, Irian Jaya, Bali Nusa and Tanjung, all four, come in on the same charter flight. So you can get a box from each all together.

Cebu has just begun shipping again, it remains Sunday to LAX. Fiji ships fish weekly, recently they have been Wednesday arrival to LAX. Sri Lanka is shipping every few weeks or so, and are great hand or net caught I.O. fish. Tuesday June 30 is next scheduled arrival.

There are fish and corals coming in regularly, but you have to plan ahead, and have patience. Let us know what you want and we'll tell you the best place to get it.

Good fishin'!
birdfish

Some recent updates may be seen here ...
Marine Livestock .pdf Lists

Contact Us
(but not with a Comcast e-dress)
May 18, 2020

Hi friends,

We hope you are all doing well under the circumstances! Here is some news from the fish and coral world ...

There are some shipments coming in from various places, while we continue on standby for others. Our people in Indo and Kupang have yet to get another coral shipment out. They keep trying, we keep waiting. Vietnam has mushrooms and zoanthids available right now, but no ultra soft corals or anemones.

Since charter flights are being used right now, we're having to pay extra for freight, so some pricing is affected. Supplies are so tight you have to order to get on the list to reserve any boxes you need. There are three boxes of orders for every one box to be had.

Australia shipped recently again. It comes in on a semi-regular basis, but you have to order to be on the list to get a box since demand exceeds supply. It's a dozen medium to large colonies of A-grade and better (the shipper is the biggest there and calls them ultra), $1300 for a box.

There are some new great Australia corals in the greenhouse, and Blue-dot Jawfish! There is another 'tanked Oz' list of stuff that is A-grade, tanked in L.A. Ask if you are interested. There are frags available of several sorts right now, including Tonga corals, Vietnam shrooms and zoas, and some other fancier stuff.

Tonga is regular and dependable, as well as great quality pieces and at least a bit of selection for 'a la carte' coral ordering of good sized wild colonies. It is very highly recommended. Acros, Acans, the soft corals, all is A grade and better. It is currently expected to arrive LAX on May 21st, so there will probably be another shipment some time soon. If you have seen unimpressive or crummy Tonga, it was from the other shippers we don't use, the cheap ones with the cheap stuff.

There are some fish coming in from Bali. They are on charter flights and they cost $100 per box more, than the regularly scheduled flight freight was, but it is a start at least in getting the ball rolling again. Most of them are now $350 per box inbound landing & handling charges. There will be no discounts on the inbound per box charges while we are having to pay charter flight freight rates. Sorry! To make this possible, several shippers all ordered at once and Irian Jaya, Lombok, and Bali Nusa, are all shipped together. For the current shipment, Wednesday is the LAX arrival day, so the scheduling has temporarily changed from the usual Sunday LAX arrivals. We expect when regular service resumes the freight surcharge will disappear and the regular schedule will resume. There are still no flights out of Sri Lanka, Kenya, Marshalls, Tahiti, etc.

It's the same situation with Fiji, yes fish are available, but only via charter flights. No live rock until regular priced air freight resumes. They shipped some of the cultured 2.0 via boat, you might smell it when it gets to L.A. Inbound Fiji fish boxes are now $300 landing & handling per box. Fish selection and quality is great. It'll come in next week. The pilots and crew have to QT at the airport for two weeks when they get back. So can only do it so often, they run out of crew.

We can FedEx some things to some places. It has been on average been $125 for a fish box, $150 and more for a heavy coral box, under a hundred for a box of a couple dozen frags. FedEx is not available for anything that arrives LAX on weekends, but it works for the greenhouse, frags, tanked Oz, etc. Just send us an e-mail if you're interested!

Be well all, play it safe!

happy fishin'!
birdfish

Some recent updates may be seen here ...
Marine Livestock .pdf Lists

Contact Us
April 13, 2020

There are a few boxes of frags available.

Both the Vietnam zoa and shroom frags, and the Tonga assorted corals frags (including some Acros) are again available in limited numbers! Order now if you want some by sending us an e-mail!

Tonga Frags -
Assorted, farmed in L.A., great size & varieties, $25 each
Minimum 20-25 pieces per box; plus box & packing

Vietnam Frags -
Zoanthids - $20 each
Mushrooms - $25 each
Minimum 25 pieces per box; plus box & packing


Contact Us
March 23, 2020

Hi fish friends,

We hope you are all doing well, safe and sound. For the most part, lots of international shipping has been shut down presently. Australia, Sri Lanka, and the Philippines have no international flights out now. Many airlines are not flying international routes, such as Quantas, on which much freight moves from the Indo-Pacific.

Further, in California there is an order for 'essential' travel and biz only, which means shipments cannot be processed at LAX in order to ship. So it seems lots of sources are on hiatus momentarily. Many shipments were stopped this weekend, as well as those due in this week. They are trying to get in whatever they can of course. It will take a few days to see what's up, but I suspect at least this coming weekend (the 29th), as well as the following week, many things will not be available. We will just have to wait and see what happens now.

There will be another Indo coral shipment as soon as they can make it happen. Boxes are Acros only or mixed corals only, and order asap if you want one as soon as it goes. Fiji (fish) and Tonga (corals) remain open so far. Viet Nam is also trying to ship as soon as they can. Some places remain open, but part depends on the situation in CA for the handling at LAX.

In the mean time, we suggest watching your fish and corals!
Consider what a great stroke of brilliance it was for you to have something of such interest, beauty, and entertainment for these rainy days.

We will keep you posted here as anything changes.

stay safe, and be well!
birdfish
March 9, 2020

We'll keep you posted on this! Word has it that there may be some live rock available from Indonesia some time very soon! It will be an Indo or Bali type coral rock with purple coralline on it. It will be more expensive than the old stuff was, but it will be real deal Indo-Pacific fresh air freight live rock. There might be a few boxes coming in soon.

Here are two new photo pages for your viewing pleasure ...

Tahiti Clams

Tonga Acropora
Our Toll-free Phone Lines:
(866) 874-7639
(855) 225-8086
Monday through Friday
from 9:00 a.m. to 5:00 p.m.
(Central Time)


Please use second number if you cannot get through to the first one.
birdfish@livestockusa.org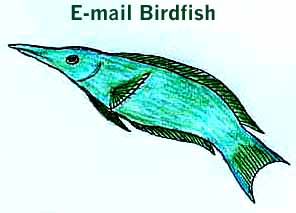 All photos and articles within this website are
copyrighted and may not be used without permission.
© 2001-2020 American Ingenuity
www.livestockusa.org
All Rights Reserved