Greenhouse items may be added with any order, or may be ordered separately.
No minimums! But you need to order a box worth of stuff (unless getting just an item or two added to another inbound box). Remember two fish boxes domestic freight is about same as one.
Add only price of item shown and box and heat or ice charge.
This page is merely a representation of possibilities.
A more current version of our Greenhouse List, with pricing, is here as an Adobe .pdf page ...
Greenhouse List
(.pdf page - last update June 24, 2020)
Greenhouse List
(non-.pdf version)
Also see ...
Fancy Mushrooms
Tahiti Maxima Photos
Hawaii
Most recent .pdf page update: June 25th
CRABS, SNAILS, SHRIMP
125 lot - Mexican Turbo Snail
125 lot - Margarita Snails
125 lot - Blue Leg Hermit Crabs
125 lot - Emerald Crabs
125 lot - Red Leg Hermit Crabs
125 lot - Nerite Snails
125 lot - Nassarius Snails
125 lot - Cerith Snails
125 lot - Florida Astrea Snails
Arrow Crabs
Fire Shrimp - XL
Cleaner Shrimp - XL
Peppermint Shrimp -
Scarlet Red Hermits
Harlequin Shrimp
FISH
(Availabilities change)
Flame Angel
Flame Hawk
Caribbean Seahorse
Yellow Tang
Garibaldi
Blue Dot Jawfish
Passer Angel
Paddle Fin Wrasse
Senorita Wrasse
Small Cortez Sting Ray
Barnacle Blennie
Red Head Goby
Catalina Goby
Zebra Goby
Neon Goby
Firefish
Royal Gramma
Pink Margin Fairy Wrasse
Triple Tail (Floral) Wrasse
Blue-sided Fairy Wrasse
Melanurus Wrasse
Blue Mandarin Goby
Dragonface Pipefish (eats red bugs)
Ruby Red Dragonet
Navarchus Angel
Purple Queen Anthias
Sailfin Tang
Copperband Butterfly Blue-striped Clownfish
Black & White Heniochus
Xmas Wrasse Green
Xmas Wrasse Red
Coris caudimacula Tailspot Wrasse
Starki Damsel
Sea of Cortez Fish -
Baby Jewelled Moray Eel
Garabaldi M/L
Red-headed Goby
Barnacle Blenny
Senorita Wrasse
Paddlefin Wrasse
Springeri Damsel
Gold and Green Nudibranch
Kenya -
Blue-striped Pipefish
Sunburst Goby
Allardi Clownfish
Desjardini Tang
African Flameback Angel
Exquisite Wrasse
Radiant Wrasse
Scrawled Filefish
I.O. Koran Angel
Hawai'i -
Bartlett's Anthias
Marshall Isls. Flame Angel
Marshall Isls. Multi-color Angel
Large Hawaiian Feather Duster
ANEMONES, RICORDEA, SOFT CORALS
Condylactis (Carib.) Anemone
Florida Ricordea
Ultra Flower Rock Anemone
St. Thomas Mushrooms (blue-green)
Rainbow Ricordea (Caribbean)
Yellow Gorgonian (Caribbean)
Red Gorgonian (Caribbean)
CORALS
Viet Nam -
XL Viet Nam Combo Rock (Ultra zoas & shrooms)
Viet Nam Ultra Ricordea Rock
Viet Nam Neon Alien Green Cabbage Leather
awesome - see pic below
Viet Nam Mushroom Rock
Viet Nam Zoanthid Rock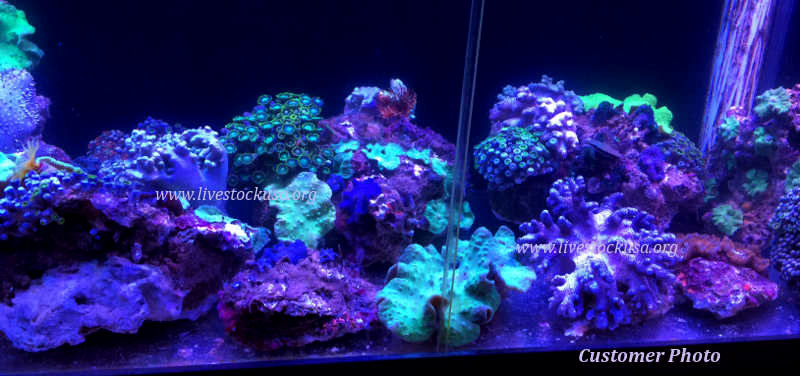 These are the Viet Nam green Flower or Cabbage Leathers
Photo courtesy of Francisco M. of Miami, FL
CLAMS
(Not always available)
See pics below
Lg. Tahiti maxima 4-6" (blue, teal, green, purple)
Sm. Tahiti maxima 2"+
Cocos Islands 2.5-3" Blue maxima
Cocos Islands Blue Maxima - 5-6"
Earthtone Squamosa 5-6"
Black and white Maxima
Blue Squamosa (solid blue) 3-4"
Note: Availabilities may change. Box, heat and-or ice: $12 each
Can be shipped Sunday through Wednesday most weeks ... airport to airport in U.S. only

Note: To place an order, please request most current list first!! Availabilities can change.