Australia Tanked Corals
There are some tanked Australian corals available to order 'a la carte' so you can pick and choose to fill a box. Depending on types, it's usually 12-20 colonies in a box. A-Grade wild corals.
For information on pricing and availabilities, check the
.pdf page
You can also send us an e-mail for a current list (see "Contact" link at top-right.)
There is list below the photos with what is typically available. The photos below are of some of the high-end ultra corals. If you see one you have to have, tell us which one and we'll get a price on it for you.
The tanked Australia corals ships out from Los Angeles on Sunday or during the week on days when shipments are coming in from other places, such as Kenya, Tonga, Fiji. Those do not always arrive every week, but if any of those are coming in, it can go on Monday, Wednesday, or Thursday and to you the following day. Sunday for sure every week though, and it can go out most weeks on at least one of the weekdays.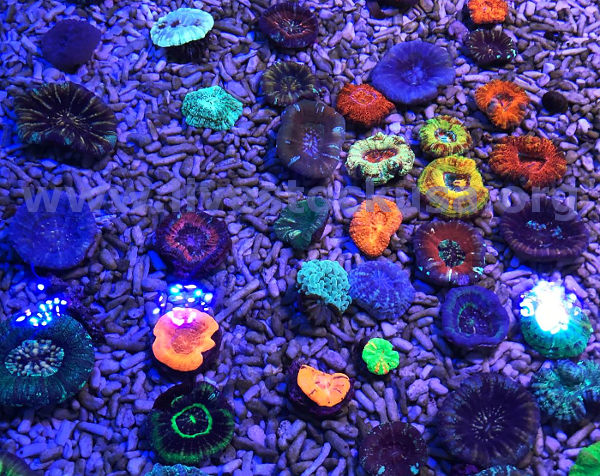 Scolymia Ultra - $400-700
You can ask for a price on any scoly you are interested in.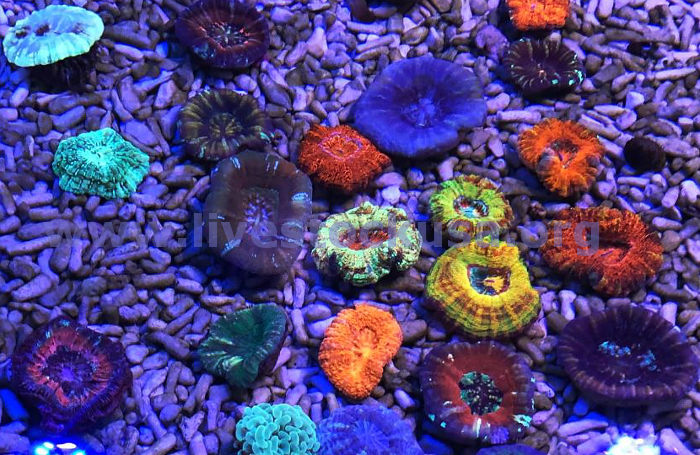 Scolymia Ultra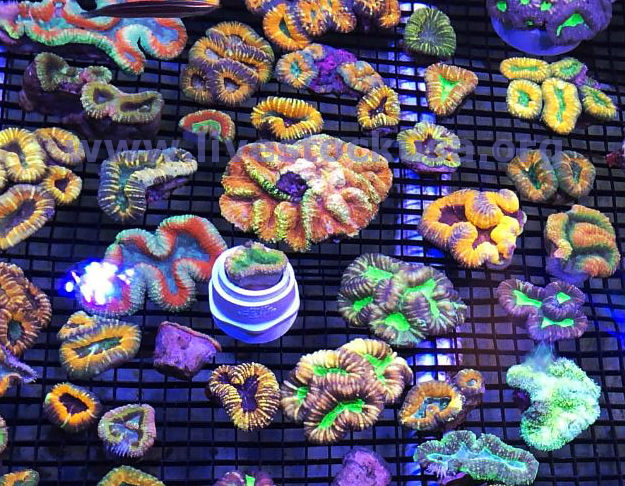 Trachyphyllia Ultra
You can ask for a price on any trachy you are interested in.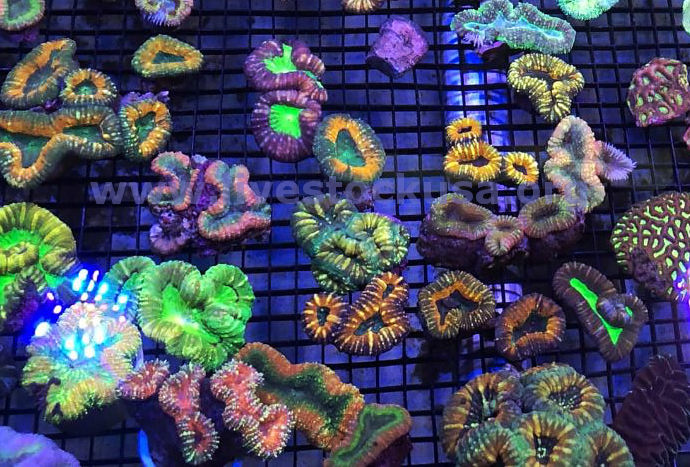 Trachyphyllia Ultra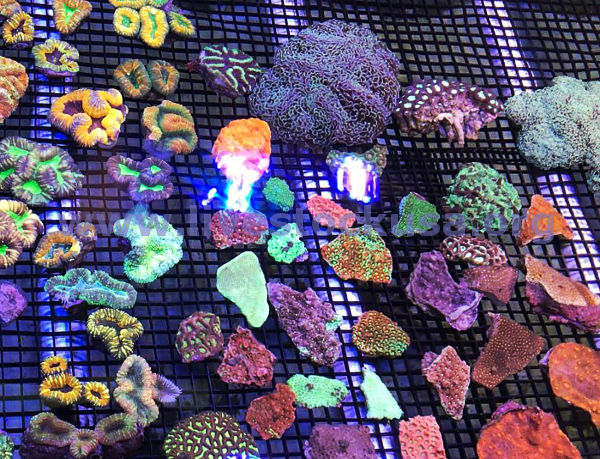 Trachyphyllia Ultra, some chalice, odds and ends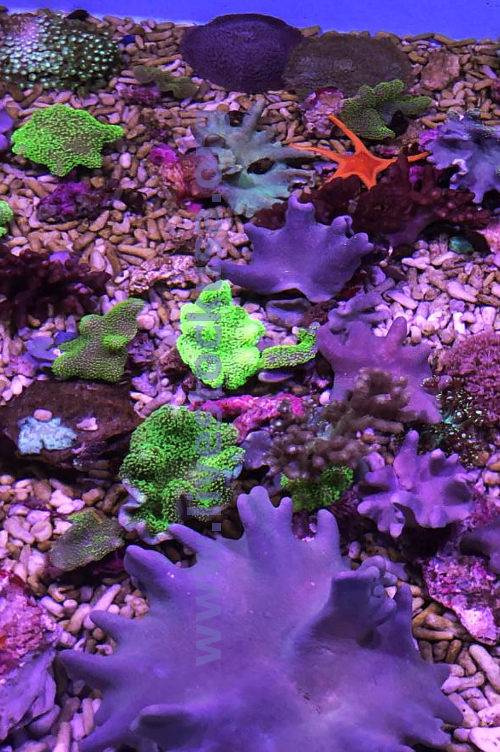 Australian Crown Leather. These are all the same leathers, some
with polyps extended fully (the most neon green) and others with
polyps fully retracted (the big one lower front above). When the
polyps are out, they are all neon green.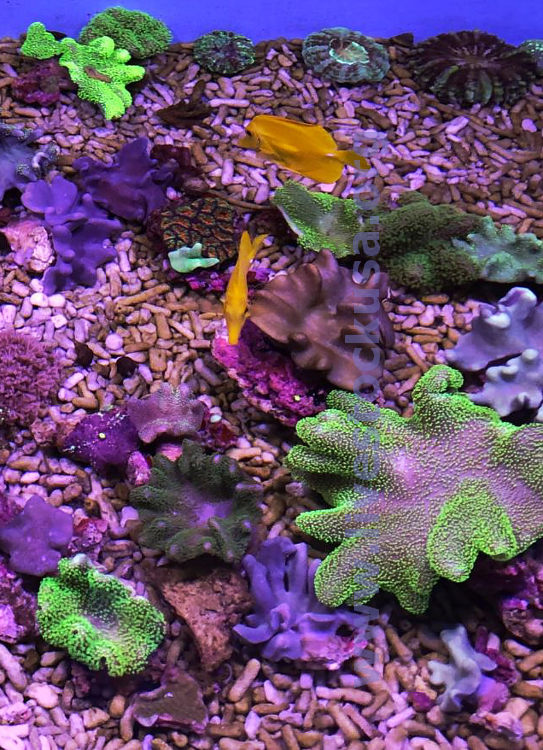 More Crown Leather - $115-175, depending on size
BRIGHT RED AND GREEN BLASTO PER HEAD
BRIGHT GREEN BLASTO SOME PURPLE-PINK
AUSSIE DOUGHNUT GREEN MULTICOLOR
ACAN GRADE A
ACAN ULTRA
ACAN RAINBOW
ACAN PACKAGE
ACANTASTHREA ECHINATA - RAINBOW
MICRO-favia
ACROPORA
SPECIAL ULTRA ACROS
PINK TIP - PURPLE ELEGANCE
RED OR GREEN SCOLYMIA - A-GRADES
GREEN CROCODILE SCOLYMIA
RED CROCODILE SCOLYMIA
ULTRA CROCODILE SCOLYMIA
MASTER SCOLYMIA CROC - ULTRA
Regular scolymia
ULTRA BLEEDING APPLE-war paint
warpaint-apple
TRACHYPHYLLA - bright green
Trachy ULTRA MACKAY region
ULTRA RAINBOW TRACHYPHYLLA
Fungia purple green
fungia orange
sunset fungia
ultra fungia
GOLD TORCH
ORANGE TIP TORCH
green TORCH
ULTRA BRANCHING HAMMER
ULTRA MARBLE BRANCHING HAMMER
TOXIC GREEN BRANCHING HAMMER
PURPLE TIP BRANCHING HAMMER
GREEN HAMMER WALL
WALL HAMMER - 2-color
YELLOW HAMMER
GREEN WALL FROGSPAWN
PRISM FAVIA
WAR FAVITES
TOXIC GREEN FAVIA
GREEN FAVIA
XMAS rock
ASSORTED BRIGHT GONIASTREA
GREEN CYNARINA
BRIGHT GREEN FLOWER DUNCAN
PINK FLOWER ALVEOPORA BRANCHING
GREEN BRANCHING ALVEOPORA
GREEN BRANCHING GONIOPORA
GREEN GONIOPORA
GREEN GONIOPORA - TOXIC GREEN
RED GONIOPORA
BLUE-PURPLE GONIOPORA
ORANGE RIM MUSHROOM COLONY
SPOTTED RED-ORANGE MUSHROOM COLONY
INTERSTELLAR MUSHROOM
BLUE MUSHROOM SINGLE
BRIGHT RED MUSHROOM SINGLE
RED-GREEN BLASTOMUSSA
PURPLE-GREEN BLASTOMUSSA
ASSORTED CHALICE
PINK MAZE - GREEN MAZE
ULTRA MAZE BRAIN
MONTIPORA
ORANGE LACE
Lobophyllia
TRICOLOR LOBOPHYLLIA
green leather show size
green leather ultra
METALLIC POLYPS LEATHER
GREEN FINGER LEATHER
GREEN BUBBLE CORALS
BUBBLE CORALS
ASSORTED ZOANTHIDS
SPIDER SPONGE
BLUE MUSHROOM SINGLE stripes per head
ULTRA green smoothe mushroom large heads
galaxy
Green CROWN Leather
Australia Tanked Box-lots
Our toll-free phone for calls within the U.S. is open
Monday through Friday from 9:00 a.m. to 5:00 p.m.,
(Central time)
(866) 874-7639

(855) 225-8086
(If you should have trouble with the first number, please use the second one.)
HOME
Our E-mail
birdfish@livestockusa.org

Site Map
All coral photos within this website are copyrighted and may not be used without permission.
All Rights Reserved

© www.livestockusa.org, 2019