Archive Page Only
- no longer available
---
What-you-see-is-what-you-get or nearly so.
We have a couple of suppliers in Indonesia and Timor that cherry pick the fanciest stuff the collectors bring in, and this is how the best of the best is being sold now by the exporters over there. We would have never guessed it! They saw the inter-tube's prices over here and now pick the best pieces and sell them for select prices. The up-side is they are getting some amazing stuff. If you are wondering how to get some of the most amazing pieces that they get, check out the photos in the Timor and Jakarta slide show videos below and you can see examples of what each place has had to offer. There are some astounding pieces, not your everyday corals.
Here is how it works:
We are sent a collection of pictures and prices from Jakarta or Timor, at the last minute essentially, which is then passed along to you. This typically occurs on a Monday, Tuesday or Wednesay, so you have about one day to get your list put together and your order with payment over to us. Then, your order will be immediately sent overseas. The pieces are reserved on first come first served basis as orders are received. Your order is picked and set aside for the Sunday to LAX shipment. Some of it will be the WYSIWYG items you ordered, some is "similar," meaning very like the one shown. They can't photo everything so they give some examples for some types, and high demand for limited supplies means everybody gets some, and no one order gets it all 20 best pieces.
From the list of WYSIWYG or similar items AND their current stock list, you make up a box (24 pieces) of what you want. You won't get it all exactly like that, some will be similars, and there may even be some subs if some of the rarest stuff was gone already, subs which will be of similar quality. There are others competing for the few same outrageous pieces. They like the orders to be a dozen things off the main stock list (which has a ton of excellent-to-awesome stuff on it), and a dozen of the WYSIWYG or similar items. These orders will be filled very well, generally near exactly. You will likely get 10 of each group in the box. If you order 24 WYSIWYG or similar items only you might get half of them exact, and half similar, and a couple subs, depending on what you wanted. All of it will be of very high quality.
As we iron out wrinkles in the best way to do this, there are a few options. For starters right now, it would be easiest for you to send us your email address (we will not spam or sell) with a request to get the next WYSIWYG availability. Then we will send you a word doc, or an excel file, with the photos and prices the day it comes out. Best fill is to have the order in the next day.
Timor and Jakarta will be doing this every couple or few weeks now, at least that is the plan. For those looking for high-end fancy and one-of- a-kind rare pieces, this is a way to do some cherry picking yourself before anyone else has a chance to. Look at the pix in the sample slide shows below to see some of it.
Shipments arrive at LAX Sunday, to you Monday, you'll pay the domestic air-freight to your airline when you pick it up at the airport. It is completely re-oxed at LAX, new bags, water, and ox, plus ice or heat, before being dropped off for your flight.
For Jakarta, ask us for a sample word or excel file with photos to get a good idea of availabilities. We'll send you the one from the last WYS shipment. Both of these suppliers are long time original exporters in the biz, the quality is very high, especially on the high cost items. One or the other might have more of the things you are looking for.
A box half full of the more expensive WYS items might run $900 or $1000 instead of the usual $700 assorted box-lot specials some places have. Pending what you pick, it can be much higher if one-of-a-kind Ultra Grade Chalice, Acans, zoas, etc. are your fancy.
Pricing will be tranship: $375 per box for inbound landing costs per box. That covers international freight, CITES, U.S. F.& W. clearance, box and packing (foreign), and re-ox (new bags, water, and oxygen) at LAX. Then add coral (contents) prices. At 21 pieces figure about $15 per coral for the inbound tranship charges in addition to the coral cost.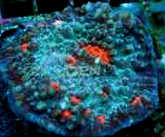 Jakarta-GMP Stock List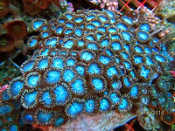 Timor-Kupang Stock List