Fiji Corals List
Note: Please inquire regarding Fiji corals

See the following link for a recent availability list and pricing for Fiji fish and corals ...
(Adobe .pdf page)
FIJI
(Fish & Corals)
FIJI
(Box-lot Specials)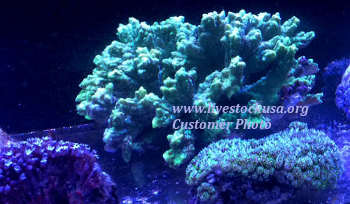 HARD CORALS -
Acropora
Bubble Coral
Caulastrea
Bubble Coral
Euphyllia - Torch - Rose
Favia - "Flat Brain"
Favites - "Moon Brain"
Fungia - "Plate Coral"
Galaxea - "Crystal Coral"
Goniopora - "Flower Pot"
Hydnophora - "Green Branch"
Lobophyllia - Green
Lobophyllia - Red
Merulina
Montipora - Purple Branch
Montipora - Velvet Stone
Mycedium
Pavona - "Lettuce" - Green
Platygyra - "Worm Brain"
Pocillopora* - Pink
Porites - Cylindra sp. - "Yellow Branch"
Seriatopora - "Birdís Nest"
Stylophora - Cluster
Tubipora - "Pipe Organ"
Tubipora - "Deep Water Pipe Organ"
Turbinaria - "Ridge"
*No guaranty on Pocillopora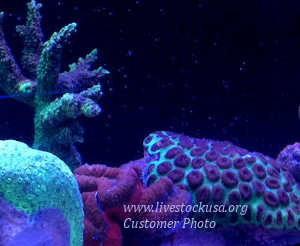 SOFT CORALS & POLYPS -
Cladiella - Blushing
Finger Leather - Lobophytum
Hair Polyps (Chlorodesmis fastigiata)
Red Soft Coral - Dendronephthya
Orange Soft Coral - Sclereonepthea
Lacy Finger - Efflatounaria
Leather Coral - "Spaghetti" - Sinularia
Mushrooms - Green
Sarcophyton - Yellow
Sarcophyton - Pin Cushion
Star Polyps
Star Polyps - Green
Xenia - Pulsing*
Xenia - Pompom*
*No guaranty on Xenia
Fiji Fish

Fiji Acropora Photos

Fiji Acropora List

Sample Assorted Tranship Coral Boxes
(Includes Fiji)
Fiji large and extra-large corals ...
These are the large-XL Fiji assorted corals, except the Pipe Organ and Red Lobo are small to medium, to give you an idea of Fiji's sizing. One box of mixed non-Acropora corals with 10 pieces in it, 6 or 7 will be large or extra large size, very big pieces.

These are the large-XL acropora that come about 8 to a box.
Thanks to Francisco M. of Miami for these two great photos of Fiji large acropora ...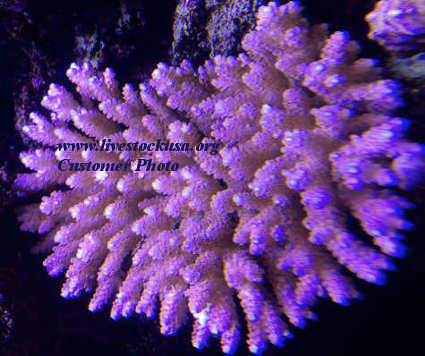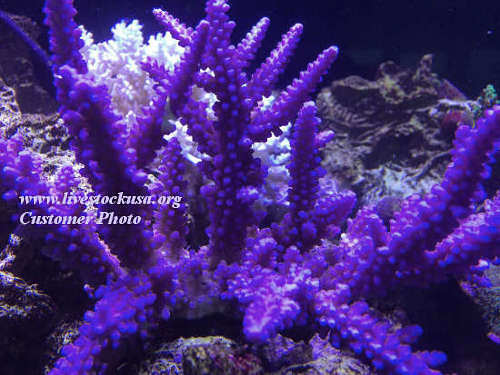 Customer comment ... during a phone conversation, Bob M. in WA had this to say about the Fiji 10 piece special with 6-7 LARGES that he and a couple buddies split ... "We couldn't believe how big some of the pieces were. I never saw a yellow spaghetti leather like that, it was so big we could make two large larges out of it. I saw a red favia just like the one you sent, online at one of those fancy shops for $180. Same piece. Yours were great, huge, we were very happy."
See Fiji Acropora Large-XL Photos
Fiji Large-XL Mixed Corals or Acropora
(No guaranty on L-XL acropora)
_______________________________
Fiji Large-XL Mixed (non-acro) Corals
10 pieces with 6-7 L-XL
$650.00
(E-mail a list of 12 with 8 designated lg-xl's, so they can better fill your order.)
Fiji Large-XL Mixed Acropora
8 pieces (can be 6 to 10)
$650.00
All prices on our lists are F.O.B. (freight on board) LAX ... the shipping cost to your nearest airport is additional and will be paid to the airline when you pick up your order.