Just a quick note in case any of our Comcast customers peek here. Comcast seems to have our e-mails blocked, so we're unable to e-mail you at a Comcast e-dress. You can try white listing us, but we can't guaranty that will work. If you have an alternate e-mail address, please send it to us if you'd like to get on our mailing list or if you've not been receiving our e-mails. Also, it's pertinent that we have another e-mail address for you if you place an order with us. Thank you!
January 13, 2020
Now available ... Tonga acropora frags!
Tonga Acropora Frags
December 16, 2019
Hi friends and animals,
We wish you all a very Happy Holiday season!
Here is a big end-of-year news happenings roundup ...
There are some considerations regards shipping and supplies this time of year we want to remind you about, and, give some updates on current coral news.
First though most have probably heard, there has been some news from the Indonesia CITES enforcement quadrant. That means the whole Indo/Bali/Jakarta/etc. area. They will resume shipping corals at some time in the future — aquacultured only, no anemones or live rock. There is no timetable set for the opening though, estimates run six days, weeks, or months.
Vietnam is seeming to be under lots of pressure to close. It is not known if or how long it will last, just so you know how some insiders feel about it. Get it while you can. Fiji is trying hard to get corals going to the U.S. again, if nothing in a week, it will be months again before another chance. Fiji will probably not ship (fish) the next two weeks as, like Tonga, the middle-of-the-week arrivals won't work due to the Christmas holiday.
Tonga is awesome to stellar, amazing, and incredible, outstanding A-1, 5-star stuff, and a regular thing. But they will not ship the next two weeks due to the holidays falling mid-week. It doesn't hurt to place your order to be at front of the line for when they resume in January, maybe the 8th to LAX.
Shipping can be a bit dicey to secondary locations, especially the week prior to Christmas, so it depends where you are, but often big hub destinations are doable. Generally everything is open and easy by the day after Christmas, until the weekend after New Year's, which can be busy when everyone goes home, seemingly from LAX (Rose Bowl traffic, etc.). Check with us pending where you are so we can check the cargo situation.
In addition, a number of the suppliers close for at least a week or two over the holidays. So some things might not be happening for a brief period. Please always feel free to ask whaddup.
So now you are all caught up on the latest.

Again, we wish you very Happy Holidays!
~ birdfish & company

November 19, 2019
Hi friends,

Take Ten Special
For a limited time only, take ten off!
Take TEN percent (10%) off of anything on the Greenhouse list, with the exception of crabs, snails, shrimp and clams.
Greenhouse List
Take TEN percent (10%) off of the following frag boxes!
Australia Frags & Corals Fancy Frags (Australia)
There are some new Ultra Viet Nam zoa frags available which are awesome.
Check out the pics here ...
Vietnam Frags
Take TEN percent (10%) off of the contents of tranship fish and invert boxes.
Fish List Central
To order with the special pricing, send us an e-mail so we can send you a payment link button to click and follow which will include the special discount, or you can simply use the birdfish e-dress to make a Paypal payment.
birdfish@livestockusa.org
There has been some talk of Fiji possibly opening back up but nothing has happened, they are still fish only and the cultured live rock to the U.S. Indo/Bali remains off the table. Tonga is great, especially Acros and brains, but softies too. The various Australia available is stellar (see the Greenhouse list). Vietnam is the place for soft stuff like shrooms and zoas, but has been getting far more intermittent of shipments lately. More CITES problems. There are people in a couple of places outside the Indo area trying to get stations going, as well as a live rock place being worked on elsewhere. Hopefully in the not too distant future there will be some additional coral and live rock options on the table. All the fish shippers have seemingly almost everything you could want and remain easy to get.
Wishing you & yours a Happy Thanksgiving!
~ birdfish
September 24, 2019
Hi fishy friends,
Hope you had a good summer! It is supposed to be over, but seems to not want to let go yet in some areas.
Some great news is a big price reduction on the Fiji cultured live rock. $1.00 per pound. So it is $6.25 per pound now! Which is what the last real deal stuff was. The ordering buttons should be fixed by time you read this.
Fiji Cultured Live Rock
There are lots of choices for Australian corals, all tanked at a few places in L.A., but any of it can be put together to make an order. It is A-Grade to stellar stuff. There is a new Queensland source, as well as a new western Oz source, so lots of neat corals are available. Be sure to check out the Greenhouse List, some are only listed there on the .pdf link.
There is no news on coral exports from the Indo CITES enforcement quadrant, or Fiji. Don't hold your breath. Yes people are trying to get them back open, but nothing yet, and now for over a year. Easy to close, hard to open. One says maybe something soon. People are working on opening in other places as well, but none are up and running yet.
Besides Oz, the Tonga corals are great, especially the Acropora. The Tonga LPS and softies are both good as well. For shrooms and zoas, Viet Nam is very good to outstanding.
~ birdfish
Australia Corals
Greenhouse List
(See .pdf for current list)
August 14, 2019
There are some recently-shared photos of Fiji live rock on the following page you might wish to check out ...
Fiji Cultured Live Rock
There is also a new Hawaii fish .pdf page linked on the following page in the "Fish" section here ...
Marine Livestock .pdf Lists
July 3, 2019
Happy Independence Day!
Just a couple of quick things...
There is a bunch of great Australia, mostly tanked in L.A., easily had. Save the prices - LOL. Those
Aussie Box Lot Specials are great, both the frags, and the wild pieces.
There are some new Australia coral photos on this page:
Customer Photos 2019
Tonga has some great corals and a bit of selection for old fashioned 'a la carte' coral ordering, hard and soft, and good Acros.
Nothing happening on Fiji or Indo area coral shipping, they remain closed. There are three different places in the Indo-Pacific where folks are working on getting coral shipping facilities going again, all outside of the Indo CITES enforcement quadrant. So with or without Indo or Fiji reopening, there will be some more coral options in the future. Can't say when, likely a few months, maybe more, but one might get going sooner.
Not to brag, but I think our pink Flaming Carnation is the best anywhere ...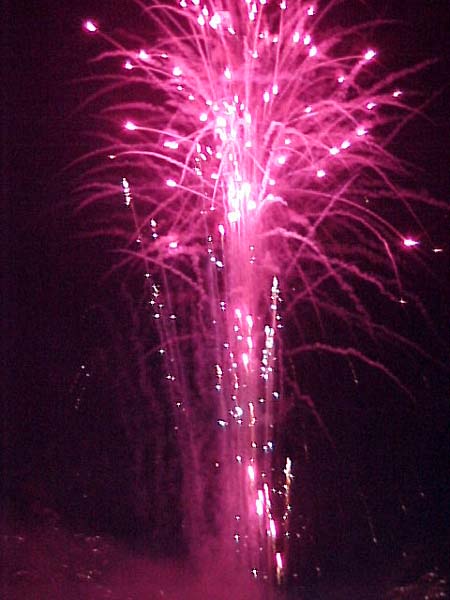 Our Electric Urchin can't be beat either ...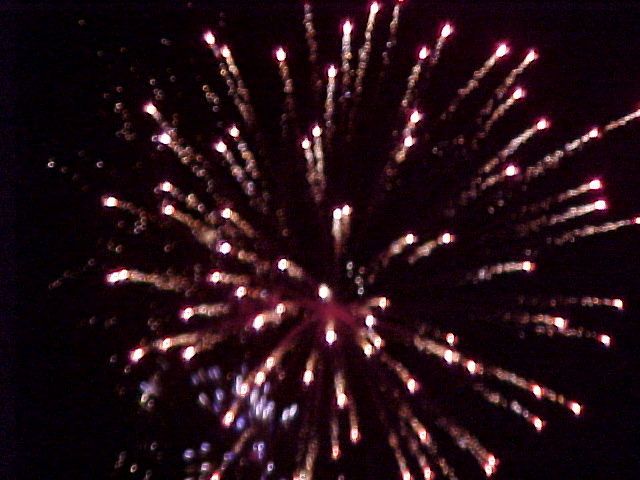 And when our Starwarz Spaghetti Leather goes off, it's a sight to behold ...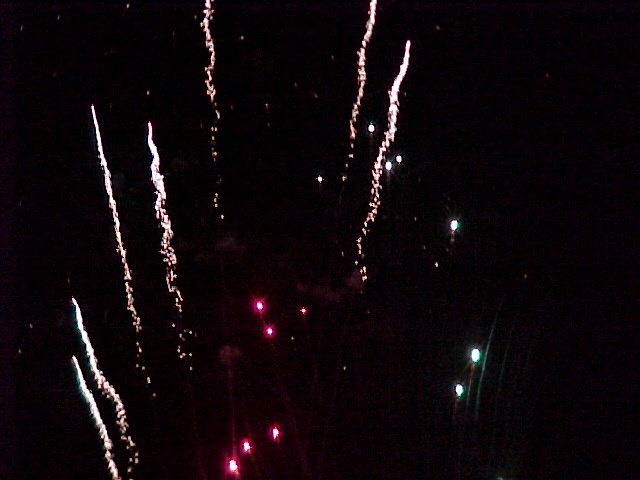 Our exclusive Exploding Acropora will make your friends green in the gills with envy ...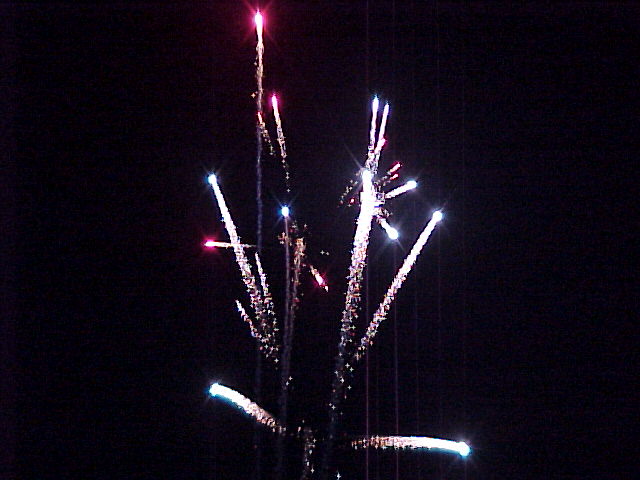 Have a HAPPY FOURTH!!
~ birdfish
April 18, 2019
Hi all,
A few news items. First, We have a new Tonga thing happening, so hard and soft corals are available 'a la carte' from there now. They have great Acros!
Meanwhile, at the other end of the spectrum, it sounds like Viet Nam is not going to stay open. So if you had thoughts of getting it, do so sooner rather than later. It does not look good, it may close in the near future. There are no more large combo rocks available from there already. Indo and Fiji are both still offline for coral exports to the U.S., there is talk something might happen in Fiji. There is cultured live rock now from Fiji, a bit expensive, but good encrusting coverage from being under water two years, and so something that will work in a pinch.
All the various tanked Australia corals are A-grade fantastic. You will not be disappointed. Use the Fish or Coral List Central pages (links at top of any page) to easily see recent updates, or e-mail and ask for one, we can send an Excel file with a dozen or so tabs.
~ birdfish
Tonga Corals

Box-lot Specials - Viet Nam

Live Rock Photos & Pricing - Fiji Cultured Live Rock

Contact Us
A reminder ... we cannot e-mail to Comcast accounts, you'll need to give us another e-mail address to receive e-mails from us or you can try white listing us.
March 27, 2019
Here are some customer photos from a recent order of Viet Nam ("Regular") corals ...
2019 Customer Photos
There are also a few nice fish photos shared with us by customers on the following page ...
Philippines Fish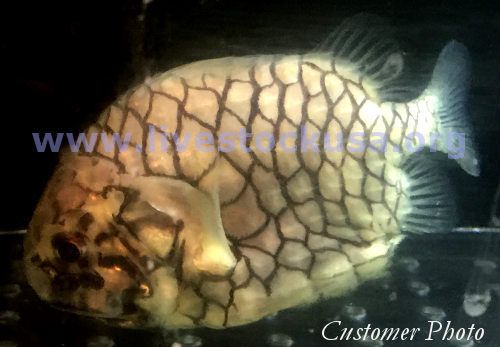 Pinecone Fish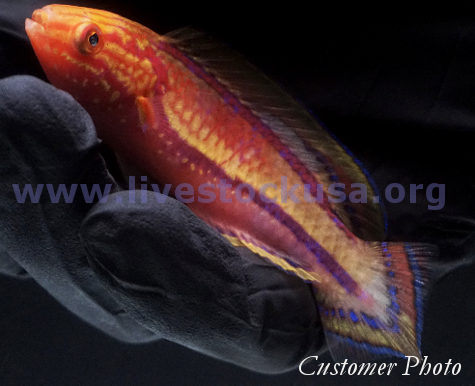 Pintail Fairy Wrasse
March 8, 2019
A new page of customer-shared coral photos ...
Australia Corals Photos
February 18, 2019
Hi all,
There is Fiji live rock! They found it! The lost rock. It is cultured and made from a combination of cement, oyster shell, and coral sand and bits. It has been under water two years now and looks great. It is not real old eroded coral pieces, but the overall effect is pretty close to what regular Fiji live rock looked like.
Here are a couple of photos of it. Additional photos can be seen on our Live Rock Photos & Pricing page. The boxes will be 48 pounds, $7.25 per pound. A box then is $348. Current schedule has it arriving Thursdays with Fiji fish shipments, so Friday to you. Send us an e-mail if you want to place an order for the next shipment, or use the link for ordering live rock on the page below!
~ birdfish
Live Rock Photos & Pricing - Fiji Cultured Live Rock

Contact Us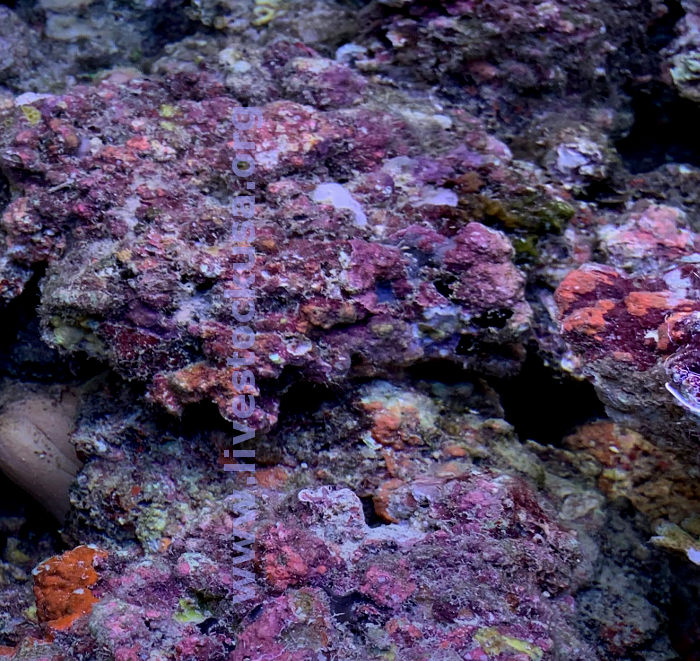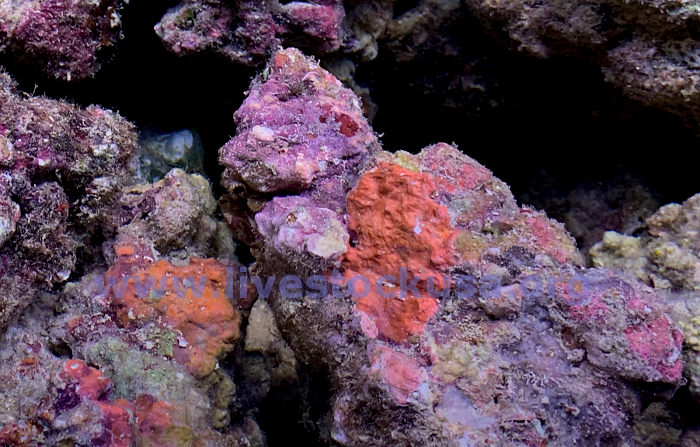 February 5, 2019
Check out the recent photos of Australia Acros!
Australia Acropora Photos
January 21, 2019
Hi all,
Here is some news about some of what's happening out there in the fish and coral land of the Indo-Pacific.
Indonesia and its neigbors like Bali, Kupang, Manado, etc., remain closed for coral exports. Still people are working on it, still nothing. Eventually, there will probably be cultured corals again, but no live rock or anemones. Fish and inverts are generally unaffected and available.
In Fiji, the closure there is being worked on as well, da man is there working on it, and probably something will happen to allow corals out again, but like Indo, no more live rock. And they will be more expensive when they reopen.
Viet Nam remains unaffected, so good shrooms, zoas, and some leathers can still be had there with good pricing.
Tonga which has been a key fill-in for the last year, has an issue. We are going dark on it for the time being. No Tonga coral orders will be accepted for now. Sorry! There is a bacterial problem in their water.
From Australia, there are shipments every month or so of a dozen assorted Acropora or Euphyllia boxes, and as often tranship a la carte ordering. Oz is the only current source for Acroporas and other hard corals now. At least they are still shipping, but of course at the high-end of prices.
The great news is that there are a couple of new box-lot specials, tanked in L.A., of Australian corals, with both frag and wild options. These are an outstanding deal for the prices. The $20 frags are huge, and the bigger overgrown frags are the size of medium to large corals. The wild mixed box are mostly medium sized.
Here is the link with some photos:
Tanked Australia Frags & Corals
For live rock, there is a guy on an island in the Pacific right now setting up to ship live rock. We are hoping to hear in the next couple or few weeks if it is ready to go. So there is light at the end of that tunnel, it is getting closer, and soon there will again be 5-star, AAA-grade, real deal, air freight fresh live rock from the Pacific. I am guessing it will be higher too. They are working on the freight rate negotiations, which is most of the cost of it.
So, for Acros or hard corals it is Aussie or the tanked specials. For softies, it is Viet Nam. For live rock, hang in there baby!
~ birdfish
January 7, 2019
Happy New Year all!
We hope you had a great holiday season and Santa found your tanks!
There are good hard corals available from Tonga and Australia. There are good soft corals available from Viet Nam. Tonga has some few softies. All the usual fish sources are open.
Just to update a little bit on the hard coral export ban from Fiji and the Indonesia areas, those remain in place. People are working on things and we will have something up here as soon as anything breaks. The Indo area closure includes Bali, Kupang, Manado, Java, any of the Indonesia area sources.
Currently there is no fresh air freight Pacific live rock available. People are working on things, we'll have news here when it breaks. Tonga and Australia both have great Acropora if that is your heart's desire.
There are some new Australian coral frags we have available, a page will soon have some info & pix up of them, and for Aussie LPS they are a great deal.
The .pdf lists page has recent copies of all the lists. E-mail us and ask to be put on the weekly mailing list which gets you a weekly updated excel file with most current offerings.
birdfish@livestockusa.org
Wishing you a happy & healthy 2019!
~ birdfish
Marine Livestock .pdf Lists

Contact Us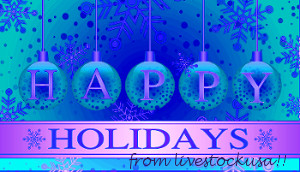 We want to wish all of you HAPPY HOLIDAYS!
Thank you very much for your kind support.
We wish the very best for you and yours!

November 21, 2018
Wishing all of our visitors a Happy Thanksgiving!
November 8, 2018
Hi all,
Just to give a bit of an update on the availabilities situation. As for fresh real-deal air-freight live rock, there is still nothing currently available from the Pacific as Fiji and Indo areas were the main key sources. Both are closed for coral and live rock exports currently. Another source may open next year. It was close, almost happened, but unfortunately, went up in smoke.
Also, there is no good word out of Indonesia for either live rock or coral exports being allowed again yet. There is, however, a lot of fake news that's been going around about Indo being reopened, but our advice is to not hold your breath! The Fiji and Indo issues are not connected, but both stopped all exports of corals, which includes live rock.
Indonesia will have some announcement in January, but our sources are not optimistic. So, for the time, Fiji and all Indo area sources remain closed for coral and live rock, which includes Bali, Kupang, Manado, and anything else in the Indonesia CITES enforcement area. Viet Nam is not affected by the Indonesia closure and is still shipping soft corals, zoas, and shrooms. Fish are completely unaffected and no part of the coral shutdown. For instance, Bali is still shipping fish and inverts. The .pdf pages are a good way to see what any currently available source has. The Tonga list rarely changes and Fiji only every month or so. They all have pretty much the same things the last 30 years.
The only hard corals available now are coming in from Tonga and Australia. Tonga is great, and fairly consistent, nearly weekly. Australia is a bit overpriced and comes in about once every month or so plus or minus, take or give. Both have great Acropora, whole wild colonies of very high quality.
There have been lots of good rare fish available from several of the sources, Gem Tangs, A. kingi (Tiger), C. joculator and Scribble and even Clarion Angels, Port Jackson Sharks, Flamboyant Cuttles, all kinds of great stuff. A little bit of Red Sea too, via Sri Lanka or Philippines RVS.
Keep in mind that shipping can sometimes be a bit dicey to some areas around Thanksgiving due to the travel load. If you want something before then, act soon. We watch the weather very closely as we have been having to use heat packs for shipments up north, while not in the south. For instance, sometimes when hurricanes were headed in, some shippers cancel shipments and wait a week. It can happen any time with winter storms too, if they don't like the looks of things, occasionally shipments get delayed a week. It helps to be as flexible as possible. Often suppliers close over Christmas and into the New Year a week or two as well. Plan ahead.
happy fishin!
birdfish
September 6, 2018
Hi all!
Hope you had a great summer as it winds down to a close...
A couple of updates on happenings out there in the big ol' sea. Tonga remains the only consistent (almost weekly) reasonable coral source open that has hard corals, besides Australia, which is neither consistent or reasonable. Tonga has very nice to excellent corals, they are not cheap, but they are not low-end small ugly pieces either. That is the other Tonga place that we don't carry or offer. Viet Nam is open for softies, if you like zoas and shrooms, they are outstanding, and almost weekly.
The Indonesia CITES enforcement quadrant (includes all adjacent islands like Bali, Kupang, Manado, etc.) remains closed for export of corals and live rock. Fiji remains closed for corals and live rock as well. Many usual sources are not available now. Hopefully something will change. There is word of the possibility of something on the horizon in fall, maybe, from Indo quadrant.
While a permit was obtained to bring some high-end live rock in, things have since gone sideways and now it does not look to be happening. There is no air freight fresh real deal live rock available from the Pacific right now. Did you hear the whoopin' and hollering of cheers from Florida?

There are things being worked on, but nothing currently is a go. A different coral source is being tested this week that is not in the Indo CITES enforcement quadrant, so there might be another coral source soon if it works out well. We'll see.
Meanwhile fish are unaffected by all the coral CITES issues. There are, in general, good supplies due to the 'summer slow season' and there are lots of juvenile, young, and smalls of stuff available from many sources. There are some rarities too, Gem and Purple Tangs, Tiger (kingi) and joculator Angels, and lots of neat stuff if you scan the lists carefully. Great clams in the greenhouse too.
To get a weekly excel file update via e-mail, just send us one asking for it. The .pdf lists on that page (link below) are updated monthly at least and can always be used to make an order. Several of the suppliers do not update their lists, like Tonga, Sri Lanka, and Fiji. They have many of the same items as they did 30 years ago.
A big hat tip and thanks to Alan Z. from north Jersey for this great photo of a Vila Fairy Wrasse he got from the greenhouse. Beautiful photo of a beautiful fish!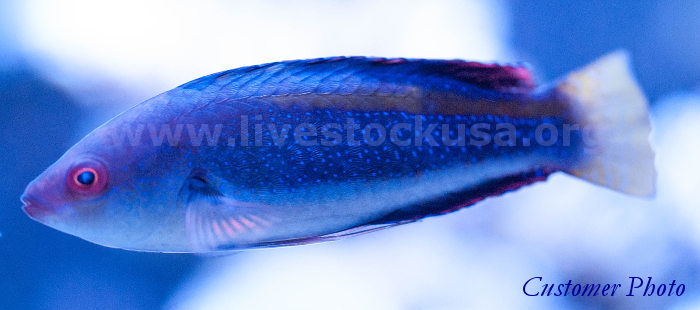 ~ birdfish

Marine Livestock .pdf Lists

Contact Us
July 24, 2018
Hi all!
We have a some new photos up on our Customer Photos page thanks to a couple of real nice people that sent us some pix of their corals.
Customer Photos 2018
The Tonga corals are outstanding, and for hard corals are the only option now. There are a few new photos here ...
Tonga Coral Photos
There will be some fresh real deal live rock very soon, it is being worked on, we are anxiously waiting, permits are in hand, and it could be any week.
For corals and live rock, Fiji and Indonesia areas remain closed. This also includes Bali and Kupang, any Indo area sources. Viet Nam is not affected, so great shrooms, zoas, and softies are still available there.
Viet Nam Soft Corals
Fish are not affected by the coral closures. All the usual places have fair to good stocks in general now, since it is the summer slow season here. Now is the season when young fish 'fallout' onto the reefs. So there are tiny, small, and juvenile of some fish available on some lists now that are seasonal. We have seen tiny Clown Triggers, Blue Tangs, juv. Regal Angels, etc., that are a once-a-year thing.
Send an e-mail to get on the weekly mailing list and receive a regularly updated excel file of source lists.
~ birdfish
Contact Us
May 17, 2018
Hi all!
Tonga corals are on! Do ya wanna Tonga? Now is the time!
In case you have not heard, there has been a ban placed on Indonesia coral exports. This includes live rock. It is believed to be temporary, and is expected to get fixed, but no one can say when. So far it is like Fiji redux.
This does not affect fish, and is only for areas within the Indonesia CITES enforcement quadrant. So, for instance, it does not affect soft corals from Viet Nam. But it does close all the Bali Acro places, Kupang, anything Indo or Java, or any of the adjacent islands. In many ways this is very similar to what just happened in Fiji, and again without advance notice whatsoever to the industry.
So at the present, Viet Nam soft corals are the main source for zoas, shrooms, and assorted softies. Hard corals supplies are virtually non-existent. Unless you wanna Tonga. There will be a Tonga shipment, currently scheduled for May 27th to LAX, the 28th to you.
Tonga is what we called 'almost Australia', or, 'poor man's Australia' for years. It has a limited diversity, but, the types are all different from the Indonesia area stuff. Big fancy colonies of great colors and health, and lots of unusual stuff not generally available from the Indo area sources anyway. Big thick branched Torches, big fancy Acro colonies, amazing colored encrusting Montiporas, great zoas and shrooms. Besides Acros, it is an area of somewhat low diversity within the groups, only single or a few types of each, but all different and unique types of pieces compared to what you are used to seeing elsewhere. Generally Acro boxes are all different, they do have a good variety of species of them.
Call or e-mail for a list, you have a few days to get an order together, done and placed. Acro boxes are estimated at a dozen large colonies and $850 total including everything except the domestic shipping LAX to you, which you pay the airline when you pickup.
~ birdfish
Contact Us
May 1, 2018
There's a revision regarding the live rock mentioned below ... arrival is now scheduled to be May 13th.
April 26, 2018
Hi all!
There will be some
Indo-Bali live rock coming in next week. You can place your order by using the Java-Bali payment buttons on the "Ordering Live Rock" page link below. It is
very limited
so act fast if you want some! Sunday, May 6th to LAX, Monday to you. It is mixed pink and purple coralline on old coral pieces.
~birdfish

Ordering Live Rock

Indonesia Live Rock Photos
Here's a beauty for you. Look at that Cleaner Wrasse, isn't that spectacular? Oh yeah, well that Gem Tang isn't too bad either! That Cleaner Wrasse thought it hit the ich jackpot when it saw the Tang go in the tank. Probably thought "I can live a month off this fish," then it got over there and had its mind blown when it saw it was a Gem Tang. There are some few available right now from the greenhouse at $1200 each, 3-4". Fancy fish!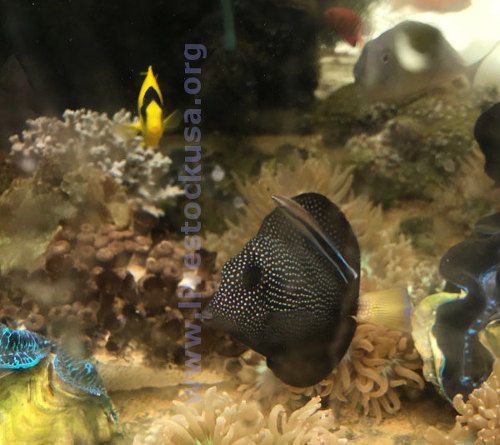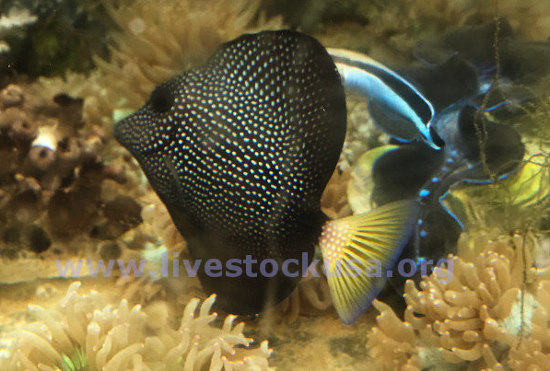 April 2, 2018
Currently, there are no corals available from the Indonesia area CITES enforcement quadrant, which means Java, Bali, Kupang, Flores, Manado, everything in that area is offline right now. This is an annual thing when the new CITES quotas and permits are worked out. It can take a week or two, sometimes more, for everything to be settled and for it to all come back online. There may be some cultured stuff (Acros from Kupang) allowed out in the meanwhile, so stay tuned. The weekly mailing list is the best way to know what is happening any given week. If you'd like to get on the mailing list, please send us an e-mail.
This does not affect Viet Nam, so if shrooms and zoas were what you were looking for, no worries. Currently that is scheduled to go on April 8th and 22nd. There is talk of Australia shipping again soon, so if high end is what you want, be ready to jump when they announce, probably in two weeks. Word is Fiji is going to come back online, and is not affected by the Indo quadrant deal so when it comes back up, there will be more options. Hopefully soon, we will keep you posted!
If you are not familiar with how tranship pricing works on the lists, please read this new page that we hope will answer all of your pricing questions ...
About Marine Livestock Lists
One last note, there will be some small Gem Tangs available with next weekend's shipments. They are 2.5-3" and $1200 everything included (F.O.B. LAX).
~birdfish

Our E-mail
birdfish@livestockusa.org